6 Great Visual Collaboration Tools For Your Remote Teams
Looking for a great visual collaboration tool? You're in the right place.
Visual collaboration platforms have been around since the invention of the whiteboard. We still require visual collaboration tools and taking notes to elaborate our suggestions and set in motion creative thinking and ingenuity.
If you are on a distant and mixed team who is not able to meet in person around filling up a whiteboard, how is it possible to bring in software solutions to that feeling of enhancing brainstorming suggestions remotely?
An advantageous solution is video conferencing technology. It enables geographically dispersed teams to join forces and contribute their thought process in a neat environment that never necessitates clearing information thanks to its limitless space.
6 Best Visual Collaboration Tools To Use
Creately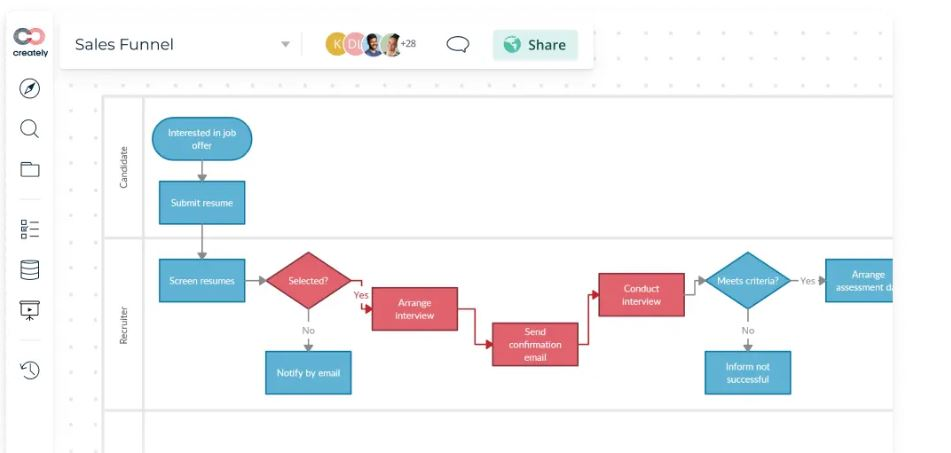 Creately is a SaaS (Software as a Service) visual collaboration platform developed by Cinergix. It offers diagramming and design capabilities and is available in two versions: an online cloud edition and a downloadable offline edition for Windows, Mac, and Linux. Creately enables users to create various business visuals, such as flowcharts, organization charts, project charts, UML diagrams, and mind maps.
It provides a unified remote workspace for boards, diagrams, documents, and projects, allowing teams to collaborate effectively. It aims to bridge the gap between the ideation process, and execution by helping users bring their ideas to life. Creately facilitates the visualization of priorities, outcomes, goals, and initiatives, providing unlimited space for collaboration.
With Creately, users can brainstorm and define strategies, create executable tasks, and establish links assigning tasks to people, goals, and processes. The tool offers multiple visual strategy frameworks, integrated support for Objectives and Key Results (OKR), Key Performance Indicators (KPIs), and task execution. Real-time collaboration and secure sharing features enable teams to work together seamlessly.
In summary, Creately is a versatile visual collaboration platform that empowers teams to create, collaborate, and execute various types of business visuals while fostering strategic alignment and teamwork.
Creately Features
Unlimited visual collaboration
8000 professional templates with 200000 examples
70 types of diagramming standards
Links and connectors for better navigation
Drag and drop to the canvas
Integrates with Microsoft Teams, Slack, and Zoom.
Creately Pricing
Free version!
Starter – $5/month per user annually, $8/month per user monthly
Business – $89/month per user annually, $149/month per user monthly
Enterprise – Contact Sales
Wrike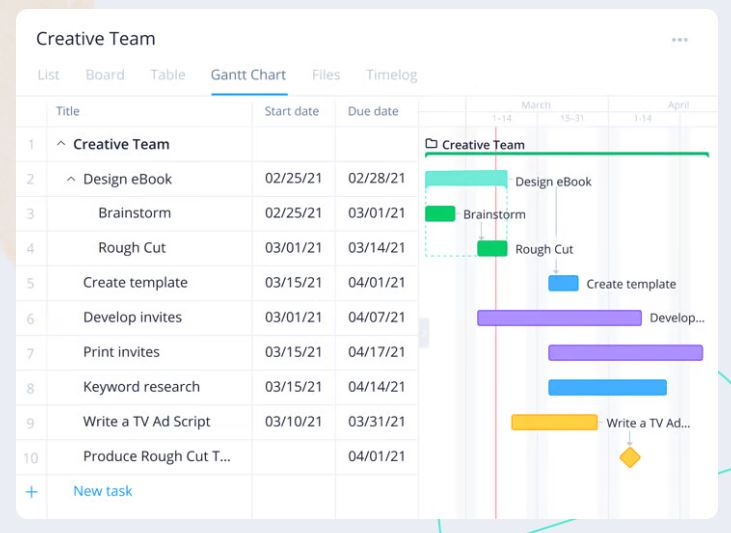 Wrike is a visual collaboration application that offers a range of powerful features to help teams communicate, iterate, and succeed. The tool provides custom workflows to facilitate collaborative planning, allowing teams to share, track progress, and maintain 360-degree visibility of each project's status, breaking down siloes.
With custom-built dashboards, Wrike helps minimize chaos and build focus by providing a visual representation of tasks and priorities. Users can pin important projects to their personalized dashboard, ensuring nothing falls through the cracks.
Wrike streamlines content collaboration through an intuitive proofing tool. It enables users to share in-context suggestions and record requested changes, reducing miscommunication and delays. Approvers can be automatically tagged for seamless collaboration.
Automated reports in Wrike offer insights into team productivity and progress. Users can schedule reports to be delivered to their inboxes or share them with stakeholders. The report wizard enables real-time insights, helping to identify bottlenecks and avoid delays.
Wrike boasts over 400 seamless integrations with popular applications such as MS Teams, Slack, and Adobe CC. These integrations, both native and custom, allow users to keep all their work connected, regardless of their location.
Wrike Features
Free 14-day trial
Gantt charts
Kanban boards
Integrations with 400 apps
Mobile and Desktop apps
Wrike Pricing
Free plan!
Team – $9.80 per user per month
Business – $24.80 per user per month
Enterprise and Pinnacle – contact them
Miro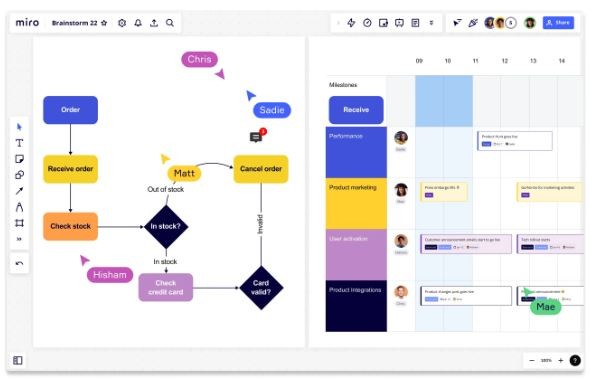 Miro is a leading visual collaboration software designed to facilitate remote teamwork and brainstorming sessions. With a wide range of features, Miro enables teams to collaborate and communicate effectively, regardless of their physical location.
One of Miro's standout features is its extensive library of pre-built templates, which cover various use cases such as: agile teams' workflows, brainstorming sessions, project management, and user journey mapping. These templates provide a solid starting point and save time for teams looking to visualize their ideas quickly. Additionally, Miro offers a vast array of customizable shapes, icons, and sticky notes, allowing users to create visual representations that suit their specific needs.
Miro's features empowers team members to seamlessly collaborate, making it easy to share ideas, comment, and provide feedback. The platform also integrates with popular tools such as Slack, Zoom, and Google Drive, enhancing productivity and ensuring seamless workflow integration.
The versatility of Miro extends beyond collaboration, as it supports video chat, document sharing, and screen sharing within the platform. This integrated approach streamlines the collaboration process and reduces the need to switch between multiple tools.
In summary, Miro is a powerful visual collaboration software that excels in promoting remote teamwork, providing a wide range of features, customizable templates, and integrations. Miro's intuitive interface and extensive capabilities make it a valuable asset for teams aiming to enhance their collaborative efforts.
Miro Features
Virtual whiteboard
Templates
Integrations
Collaboration on any device
Enterprise-grade security
Miro Pricing
Miro offers a free package. The others are as follows:
Starter: $8/month per member billed annually, $10/month per member billed monthly.
Business: $16/month per member billed annually, $20/month per member billed monthly.
Enterprise: Contact them.
Lucidspark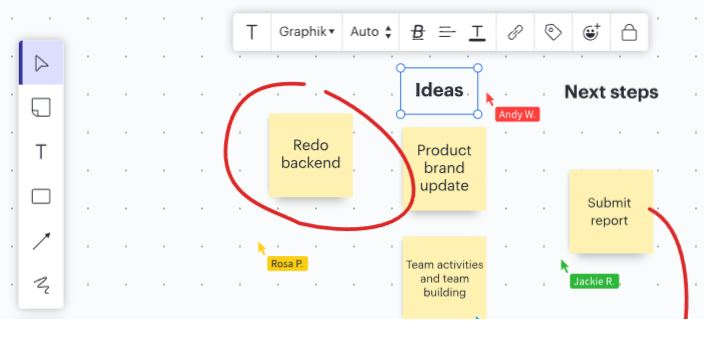 Lucidspark is one of the more powerful visual collaboration applications designed to facilitate remote teamwork and brainstorming sessions. It provides a virtual canvas where teams can work side by side, even when they can't be physically present. The tool enables users to visualize complex problems, compare present and future states, and accelerate projects with a shared visual language.
With Lucidspark, teams can collaborate visually on tasks ranging from small projects to company-wide initiatives. It offers an intuitive canvas where ideas can be collected, organized, and transformed into actionable plans. The tool supports dynamic brainstorming sessions, allowing teams to capture insights using sticky notes, freehand drawing, and color-coded cursors, shapes, and lines for each collaborator.
Lucidspark integrates seamlessly with other popular apps, including Slack, MS Teams, Jira, and Lucidchart, enhancing productivity and ensuring smooth workflow integration. This connectivity enables users to boost their collaboration efforts and streamline their work processes.
The tool also allows users to visualize their current cloud infrastructure, plan future migrations, and improve operational processes. It empowers teams to modify tools, workplace experiences, and customer journeys, accelerating the development of new operations.
Lucidspark is a versatile visual collaboration tool that excels in facilitating remote teamwork, brainstorming, and project planning. With its instinctive interface, integrations with other apps, and ability to visualize complex projects, Lucidspark enhances collaboration and helps teams achieve their goals efficiently.
Lucidspark Features
Timeboxing
Templates
Integrations with Slack, Jira, Microsoft Teams, among many others
Sticky notes
Freehand drawing tools
Gantt charts
Kanban boards
Lucidspark Pricing
Free — needs no explanation.
Individual —$7.95/user
Team–$9.00/user
Enterprise–contact Lucidspark
Asana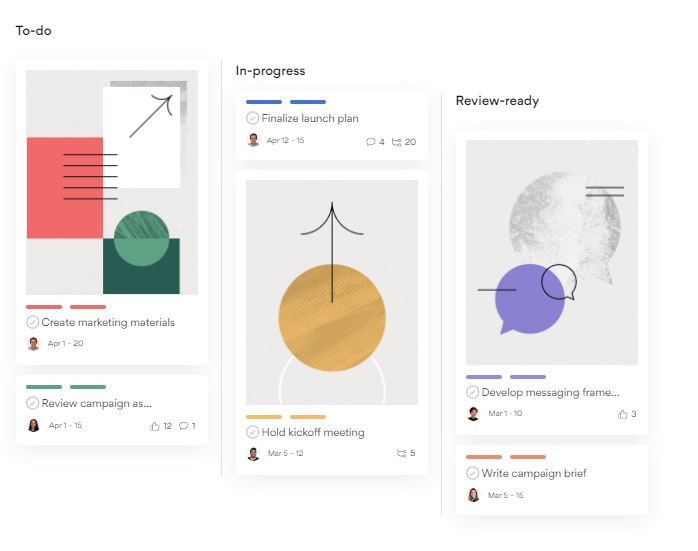 Asana is a visual collaboration tool designed to streamline your work management and boost team productivity.
With Asana's user-friendly web and mobile apps, you can finally stay on track, keep your projects organized, and meet your deadlines with ease. Say goodbye to the chaos of scattered emails, spreadsheets, and sticky notes, and embrace a centralized platform that brings everything together in one place.
Picture this: you can visualize your progress on projects using Asana boards, where your team can effortlessly move tasks from "to-do" to "done." This visual representation not only helps you track project progress at a glance but also fosters collaboration and ensures that everyone is on the same page.
But that's not all Asana has to offer. Whether you're working with multiple teams or departments, Asana enables seamless collaboration and effective cross-functional workflows. With tasks, you can share context, assign ownership, combine related work, share files, and receive instant updates—all within a single platform. Say goodbye to endless email threads and hello to streamlined communication.
And what about goals? Asana has you covered there too. Easily track the status of your initiatives and gain an accurate view of your progress toward your goals. With real-time work reporting, you can create visibility for your teams and stakeholders, making it a breeze to showcase your accomplishments and keep everyone informed.
Millions of users have already experienced the power of Asana. With its versatile interface, robust features, and seamless integrations with other tools, Asana is the solution you've been searching for to bring efficiency and clarity to your projects.
ASANA FEATURES
Free trial
Integrations with such third-party apps as Power BI, Tableau, Salesforce
Advanced reporting
Proofing
Time tracking
ASANA PRICING
Basic – Free!
Premium – $10.99 per user per month billed annually, $13.49 billed monthly
Business – $24.99 per user per month billed annually, $30.49 billed monthly
Enterprise – Contact the sales department
CONFLUENCE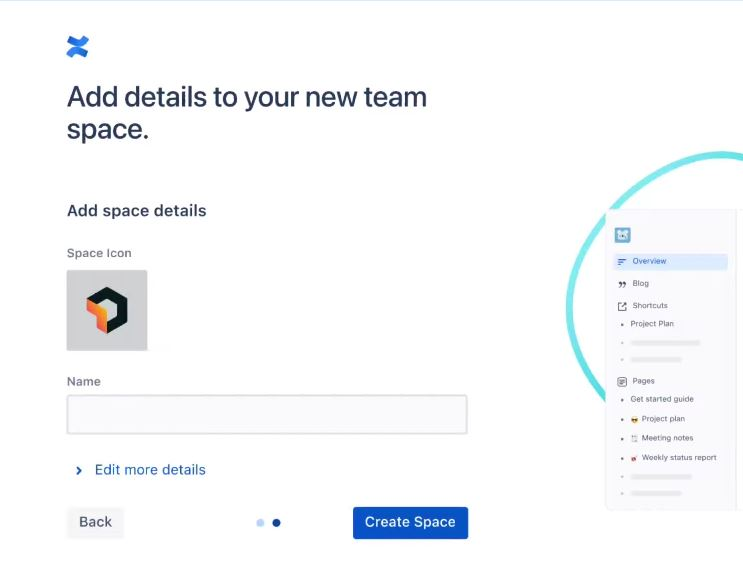 In the fast-paced world of remote work, effective collaboration and seamless knowledge sharing are essential for teams to thrive. This is where Confluence, the visual collaboration tool, comes into play, serving as the ultimate remote-friendly team workspace where knowledge and collaboration meet.
With Confluence, teams can break down barriers and collaborate effortlessly across departments and projects. The platform offers a range of features that foster teamwork, including the ability to leave comments, mention team members, receive notifications, and even co-edit documents in real time. This ensures that everyone stays in the loop and can actively contribute to the collective effort.
One of the standout features of Confluence is its seamless integration with popular project management apps. By connecting project plans to action items, teams can smoothly transition from brainstorming sessions to breakthrough moments. This integration empowers teams to transform ideas into actionable tasks and ensures that projects progress smoothly from start to finish.
Confluence goes beyond being a repository for documents and spreadsheets. It serves as a comprehensive knowledge hub where teams can create and share plans with rich content. Whether it's text, tables, images, timelines, or even code snippets, everything can be stored and accessed in one centralized location. This eliminates the need for team members to search through different tools or request access to specific files, saving valuable time and boosting productivity.
By providing a single source of truth, Confluence ensures that teams stay aligned and have access to the most up-to-date information. This not only streamlines workflows but also enhances transparency and collaboration across the organization.
In the era of remote work, Confluence stands out as a powerful tool for teams to collaborate, share knowledge, and drive projects forward. With its user-friendly interface and robust features, it empowers teams to break down silos, boost productivity, streamline processes, and achieve remarkable results. Experience the power of Confluence and unlock the full potential of your remote team collaboration.
CONFLUENCE FEATURES
Templates
Integrations with Jira, Microsoft Teams, Google Drive, Dropbox, and many more.
Macros
Structured content tree
Device syncing
Unlimited storage (only with Premium and Enterprise packages)
CONFLUENCE PRICING
Free package!!!
Standard -$5.75 per head per month
Premium – $11 per user per month
Enterprise – contact them
FAQ
What is a visual collaboration tool?
A visual collaboration tool is a software or online platform that enables individuals or teams to collaborate, communicate, and work together visually, regardless of their physical location. It provides a digital space where project managers, software teams, marketing and creative teams, and other users can create, share, and edit visual content in real-time, facilitating effective communication and cooperation.
Visual collaboration tools typically offer a range of features and functionalities designed to enhance teamwork and productivity. Some common features include:
Real-time collaboration: Users can work simultaneously on multiple projects in the same canvas or project, allowing for instant updates and feedback.
Visual content creation: These tools often provide a variety of tools and templates for creating visual content such as diagrams, charts, wireframes, mind maps, flowcharts, and presentations.
File sharing and storage: Users can easily share files, images, and documents within the platform, ensuring everyone has access to all the tools and necessary resources.
Communication and commenting: Users can leave comments, annotations, or markups on visual elements, fostering discussions and feedback directly within the tool.
Remote accessibility: Visual collaboration tools are typically cloud-based, enabling users to access and collaborate on projects from any device with an internet connection, making them ideal for remote teams or other distributed teams and workforces.
Integration with other tools: Many visual collaboration tools integrate with popular productivity and project management tools, allowing seamless workflow integration.
Version control and history: These tools often provide version control, allowing users to track changes, revert to previous versions, or view the history of the project.
Presentation and sharing capabilities: Visual collaboration tools may have features that allow users to present their work in real-time or share their creations with others outside the platform.
By providing a digital workspace for visual collaboration, these tools enable teams to brainstorm, plan, organize, and execute projects more effectively, fostering creativity, communication, and efficient teamwork.
What are the benefits of visual collaboration tools?
Visual collaboration tools offer several benefits that can enhance productivity, communication, and teamwork. Here are some key advantages:
Enhanced communication: Visual collaboration platforms facilitate clearer and more effective communication by allowing team members to share ideas, concepts, and feedback visually. Visual content can convey information more quickly and comprehensively than written or verbal communication alone.
Real-time collaboration: These tools allow team members to work simultaneously on the same project or document. This fosters teamwork and eliminates the need for constant file transfers or manual merging of changes.
Improved remote collaboration: Visual collaboration tools are particularly valuable for remote teams or distributed workforces. They provide a centralized platform where team members can collaborate regardless of their physical location, overcoming the challenges of distance and time zones.
Increased engagement and participation: Visual content tends to be more engaging and can capture attention more effectively than text-based communication. Visual collaboration tools encourage active participation from team members, stimulating creativity, and promoting a more inclusive and interactive work environment.
Visual organization and clarity: These tools allow users to organize and present information visually, making complex concepts or data more understandable and memorable. Visual representations such as diagrams, charts, and mind maps can simplify complex ideas, leading to clearer communication and improved comprehension.
Efficient project management: Visual collaboration tools often integrate with project management software, enabling seamless coordination between visual content creation and project planning. This integration streamlines workflows, improves task management, and enhances overall project efficiency.
Accessible knowledge sharing: Visual collaboration tools provide a central repository for storing and sharing visual content. This enables easy knowledge sharing within teams, departments, or organizations, ensuring that important information and resources are readily accessible to all stakeholders.
Increased productivity and efficiency: By facilitating collaboration, visual organization, and streamlined communication, these tools can significantly enhance productivity and efficiency. Team members can work together more seamlessly, reducing the time spent on manual coordination and increasing focus on core tasks.
Overall, visual collaboration tools empower teams to work together more effectively, leverage visual thinking, improve collaboration, and streamline communication and collaboration processes. These benefits contribute to improved productivity, enhanced creativity, and better project outcomes.
What are four types of collaboration tools? / What are some examples of collaborative technology tools?
There are numerous collaborative technology tools available across different categories. Here are some examples of popular collaborative tools:
Communication and Messaging Tools:

Slack: A team communication platform for real-time messaging, file sharing, and collaboration.
Microsoft Teams: A collaborative workspace that integrates chat, video meetings, file sharing, and app integration.
Google Chat: A messaging and collaboration tool that integrates with Google Workspace (formerly G Suite) apps.

Project Management and Collaboration Tools:

Asana: A project management platform that helps teams track tasks, set priorities, and collaborate on projects.
Trello: A visual task management tool using boards, lists, and cards to track and organize projects collaboratively.
Monday.com: A team collaboration and project management platform with customizable workflows and task tracking.

Document Collaboration and File Sharing Tools:

Google Drive: A cloud storage and file-sharing platform that enables live collaboration on documents, spreadsheets, and presentations.
Microsoft 365 (formerly Office 365): A suite of productivity tools, including SharePoint, OneDrive, and online document collaboration in Word, Excel, and PowerPoint.
Dropbox: A file hosting service that allows users to share files and collaborate on documents, presentations, and other files.

Visual Collaboration and Design Tools:

Miro: An online digital whiteboard platform for visual collaboration, ideation, and team collaboration on diagrams, wireframes, and mind maps.
Figma: A cloud-based design and prototyping tool that enables collaboration for creating user interfaces and interactive designs.
Adobe Creative Cloud: A suite of creative tools including Photoshop, Illustrator, and InDesign that allows designers to collaborate on visual content and artwork.

Video Conferencing and Virtual Meeting Tools:

Zoom: A video conferencing platform that supports online meetings, webinars, and screen sharing for remote collaboration.
Microsoft Teams: In addition to its communication features, Teams offers video meetings, screen sharing, and virtual whiteboards for collaborative discussions.
Google Meet: A video conferencing tool integrated with Google Workspace that enables team meetings, presentations, and screen sharing.
These are just a few examples of collaborative technology tools available in the market. The choice of tools depends on the specific needs and preferences of individuals, teams, and organizations.
Summing it All Up
In conclusion, collaborative digital workspaces offer a variety of solutions and advantages that can help teams, individuals, and organizations achieve their goals. By carefully considering the specific needs and preferences of each organization, the right tool can be chosen to help maximize efficiency, effectiveness, and productivity.
Which visual collaboration tools have you used? What did you think? Let us know in the comments!
About the Author
Dani Lehmer is a Quality Assurance Administrator by day, and an aspiring blog star by night.